Why Us?
Thank you for visiting our website. We realize that you have many choices when finding a chiropractor. We also realize that your first concern in seeking a Doctor is always can they get rid of my pain, and or can they really help me regain my health. Other concerns may be if can I afford the necessary care and how will I be treated by everyone in the office.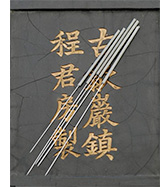 Some potential patients also have concerns about length of care issues because of a past experience with another Doctor. Our promise to our patients is to treat them as an individual as if they were truly family in a warm and friendly atmosphere. To do what is necessary to make patient care effective, affordable and the most positive patient doctor relationship possible. We have many options to achieve these goals including when warranted multi disciplinary approaches. Complementing our Chiropractic care we have a world class Chinese Doctor of Acupuncture and Traditional Chinese Medicine in our facility.

We have one of the best trained Massage Therapists in the valley and other proven effective alternative therapies for chronic or difficult cases not commonly available elsewhere. We are a holistic facility. Click here to see our services page. When it comes to choosing a Doctor there is no substitute for 33 years of experience and a great variety of therapeutic options all in one office.
"I feel like myself again! Dr. Mallory is the best." - Brittney

"I feel even better than
before."
- James